We've started picking plums! Fresh Early Magic Plums and Sugar Plums are now available in our store.
Stop by today to try a sample!
Now introducing the latest in our summer Lemonade Stand muffin series:
Cranberry Lemonade muffins available the week of July 21st!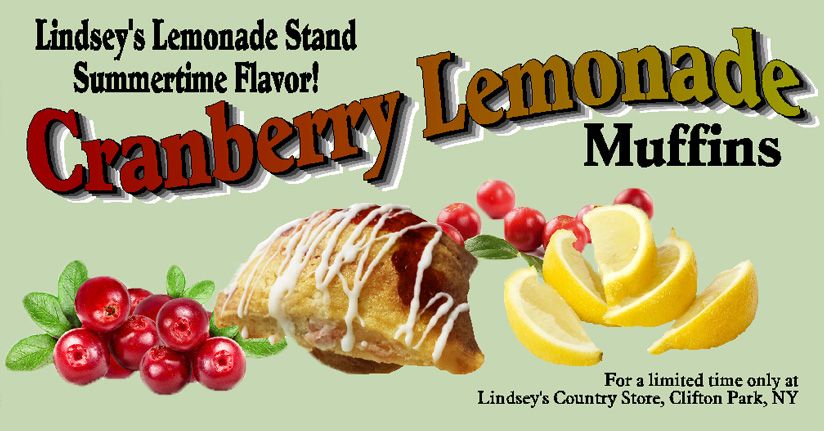 Our strawberry rhubarb muffin is back for the summer; call now to place your order!
Summer brings picnics and travel and Lindsey's muffins are the perfect food to take along with you!
With over 50 unique flavors, ask for them to be wrapped and labeled and enjoy them on the road!
Our gift baskets are a great hostess thank you when you visit, too!!
_______________________________________________________________________
Forget flowers. When you're looking for a way to brighten someone's day, let Lindsey's Country Store arrange a Custom Gift Basket. Bursting with fabulous foods like our signature moist homemade muffins, fresh fruits and assorted gourmet goodies, Lindsey's gift baskets are ideal in times of celebration or sorrow. Best of all, you can pick the basket that's just right for your needs, from our basic Half Dozen Basket to our Colossal Tower.
It's easy to order your gift baskets and boxes by phone.
But since we're just minutes from exit 8A of the Northway, why not drop in and get a real taste of Lindsey's Country Store? Sample some of our delicious down-home fare and fruits. Browse through our delightful selection of handcrafted gifts and collectibles.
And, if the season is right, bring the family and pick your own apples on our 33-acre orchard in Rexford.
After all, you deserve a gift every now and then too, and a trip to Lindsey's is always a treat.

Lindsey's Country Store
1537 Route 9
Clifton Park, NY 12065
Toll Free: 888-623-3100
Phone: 518-371-3100
Fax: 518-371-8505